Well, I nearly didn't make it - I left my handbag (WITH TICKET!!!!) under a chair in a market stall in Camden Lock Market, and didn't actually notice it was missing for about half an hour........PANIC PANIC PANIC, so we retraced our step at least half a mile, and there it was, intact, sitting under a chair, looking like part of the merchandise.....Good job nobody tried to buy it.
But I am getting ahead of myself. After I had got home from work, John drove the family up to London, specifically Camden Lock, for the day, so they could buy more joss sticks and embroidered stuff etc etc, then he dropped me off at the Albert Hall by the stage door, and took 'em to the flicks. He is a wonderful man.
Massive queue to get to our seats, mainly because they were asking if we wanted to upgrade, so I missed Jeremy Irons introducing Nicky Horne introducing the whole thing. But it was worth it, cos I got to swap my Circle back-end-of-nowhere ticket for a stalls-pretty-near-the stage one. And I only missed a few scantily clad women doing some dancing.
I even had time to go to the bar and get a drink, £8 for a glass of wine, good grief, I'll need to bring my own next time. And I would've this time, but after our jaunt around Camden, we went to our new fave restaurant off Carnaby St, and I didn't have time. (Ellie (17) got chatted up by the waiter, bless him, (but that's another story.)
Back to the Albert Hall. After the boring dancing girls, lots of different people came on and sang their bits, all of them pretty good but not my thing, including Sandi Thom, who was actually ok, but.......well..............not my thing.
John Paul Jones, Brian May, Alfie Boe, Bruce D. Uli John Roth(Scorpions)


Alfie Boe was next. He is apparently some kind of opera singer, but I think he's missed his calling, cos he did a fantastic version of Led Zeps Rock 'N' Roll. People started to get up and dance at this point.
Brian May came on and he was brilliant, but he had some random woman in tow, so they sang some slow rubbish, I do hope he's going to do a bit more later.
Alice looks very happy
Brian May 'does a bit more'
Bruce Dickenson gives a screamingly good performance
Bruce Dickenson was pretty amazing. He is actually the same age as me,....but clearly a lot fitter and he can still scream like a teenager. And then he introduced Alice!!!!!! Now I know I am slightly biased, but he looks and sounds so good, I just had to stand up and yell and shout!!.
Wasn't the only one either. But I may have been to only one in my row.........which didn't really matter as I decamped down to the (empty) front row), just a smidge away from the wine guzzling tables on the floor. (actually, even they were going pretty mad by this time)
He sang a song called Nadine first, old Chuck Berry number, and then talked about the US election......obviously Elected was next - he picked up a cane, and did that amazing swirly thing he does with it throughout, and for a minute I though he might not throw it.....but of course he did, and it was miles away from me as usual :(
School is out once again
I was sure he would do School's Out and of course he did, and we all sang along - apparently Sheryl was at the front table watching, but although I had spent most of the evening scouring the tables for any AC entourage, I wasn't looking then obviously....
At this point the stage was crowded with everybody who had been on and hadn't left, and Bruce led everybody with an amazing version of Smoke On The Water...it went for ages, and it did start to fall apart a bit, but Bruce pulled it back together by getting the audience to sing along ' Da da daaa...da da da daaaaaa' . What a brilliant end to a brilliant night.
Everybody takes a bow


My lift wasn't coming for a while, so I sat down and watch the rich types weaving amongst the tables and wine bottles trying to get out.......and then I spotted Steve Lewis on the other side of the auditorium! Ran round to see him, and met his lovely wife, and then headed out to the stage door to meet John who was picking me up. There was about 30 people hanging around waiting for I -don't-know-who, but nobody interesting came out while I was there. Although I did see Jeremy Irons sneaking out of a different side door and rushing off, don't think anybody else noticed. I know it was him because he had a really long dark red leather coat, which made him look like Batman.
Alice and Jeremy Irons stare at each other. They are pretty much the same age. But only one of them looks old.


Anyway, John turned up on time ( AMAZINGLY but that's another story) which was actually a bit of a shame as I hear that Alice came out at 11.45pm....grrrrrrrrrrrrr,.............
oh well, I will be seeing him soon, roll on Oct 24th and CARDIFF/WOLVERHAMPTON/BOURNEMOUTH/WEMBLEY/NOTTINGHAM/EDINBURGH/SHEFFIELD/OH YEAH!!!
I want that caneIwantthatcaneiwantthatcaaaaaaaaaaaaaaaaaane.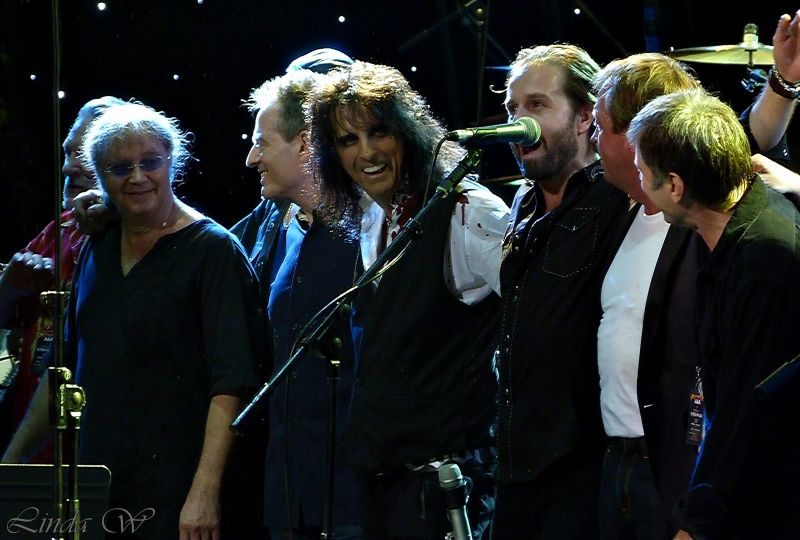 There's that gorgeous smile again